Administrative Agreement on Climate Adaptation signed
In the years ahead, a total of 600 million euros will be set aside by all levels of government to improve the Netherlands' resilience against the impact of climate change. To this end, municipalities, district water boards, provinces, and the central government signed the Administrative Agreement on Climate Adaptation on 20 November 2018.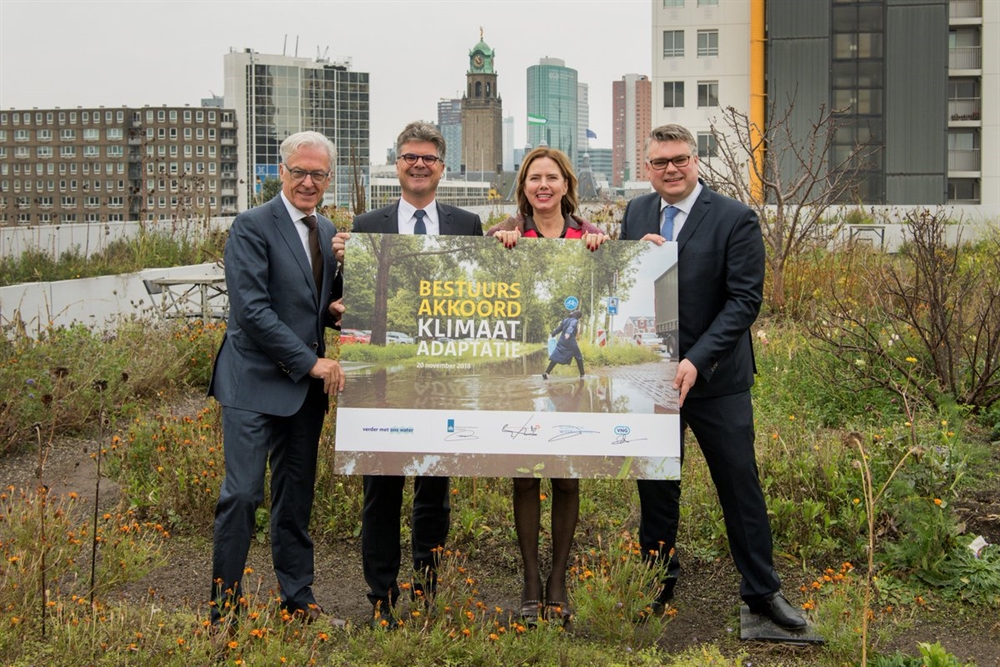 The exceptionally hot and dry summer of 2018 fits a trend: our climate is changing. We will be facing more and increasing weather extremes, such as severe downpours, urban flooding, heatwaves, and periods of drought. A Deltares study has shown that the damage caused by rainfall and drought in cities may run up to some 71 billion euros in the period until 2050 – if we fail to take additional measures. Examples of such measures include planting urban greenery, improving water drainage, and constructing water storage facilities.
Setting to work
The new Administrative Agreement was signed by Minister Cora van Nieuwenhuizen, of Infrastructure and Water Management – on behalf of the central government – and by the Association of Netherlands Municipalities (VNG), the Association of Dutch Regional Water Authorities (UvW), and the Association of Provincial Authorities (IPO). By signing the agreement, these parties are giving impetus to climate adaptation efforts and the implementation of the measures set down in the Delta Plan on Spatial Adaptation. The central government has made a sum of 300 million euros available to this end, which the local and regional governments will match with an equivalent amount.
Minister Van Nieuwenhuizen: 'This really is a hands-on agreement. It is important for us to go the extra mile now and redesign our streets, gardens, and living environment in order to cope with the impact of climate change. Last year's weather extremes have demonstrated the need for action. The driest and warmest summer in forty years caused water shortages. At other times, streets and houses were flooded as a result of torrential rain.'
'We had already set down agreements in the Delta Programme,' Ed Anker (VNG) adds, 'but this Administrative Agreement on Climate Adaptation will ensure the actual allocation of resources. The municipalities will be going for it, together with our partners: conducting stress tests, entering into dialogues with local stakeholders, and setting to work.'
Across the entire spectrum
The Administrative Agreement sets out seven ambitions to render the Netherlands water-resilient and climate-proof:
Mapping out vulnerabilities;

Conducting risk dialogues and drawing up strategies;

Drawing up implementation agendas;

Capitalising on linkage opportunities;

Promotion and facilitation;

Regulating and embedding;

Responding to calamities.
Ben de Reu (IPO): 'This Administrative Agreement enables us to tackle this tasking across its entire spectrum, along with the associated spatial considerations. In addition, the provinces can make a significant contribution in terms of their own assets, such as waterways, provincial roads, and provincial housing, business, and water policies.'
Stress tests
By no later than 2020, the municipalities, district water boards, and provinces will map out their spatial adaptation taskings, on the basis of stress tests, and set down the measures that are required within the purview of climate-proof and water-resilient spatial planning. This process is to result in regional implementation agendas. With effect from 2019, the central government will be making funds available to support the spatial adaptation efforts initiated by local and regional governments. A sum of 26.7 million euros has been set aside for process support, knowledge development, knowledge sharing, and pilot studies. The first adaptation projects co-funded by the central government will be rolled out in 2019.
'The available financial resources enable us to quickly get started, and to continue to adapt to the consequences of more extreme weather,' says Hans Oosters (UvW). 'Collective investment is the only way in which we can stay ahead of the changing conditions.'
International commitment
Extreme weather and water crises constitute a global threat. In addition to the additional incentive for climate adaptation in the Netherlands, Minister Van Nieuwenhuizen has also initiated the establishment of the Global Commission on Adaptation, which commenced its duties last month. During next year's UN Climate Summit in New York, Chairs Ban Ki-Moon (former UN Secretary-General), Bill Gates, and Kristalina Georgieva (CEO of the World Bank) will present an action programme aimed at improving the resilience of vulnerable areas around the world.
In 2020, the Netherlands will host a major international Climate Adaptation Action Summit, aimed at the exchange of knowledge and expertise in the field of climate adaptation. This Summit's programme features a special role for the Global Commission on Adaptation, which will be showing what it has already accomplished and what are its future plans.