The National Climate Adaptation Strategy (2016) outlines the impact of climate change in four conceptual diagrams relating to four climate trends. The images show a (simplified) visual summary of the current scientific knowledge of climate effects and climate consequences. The images serve as a tool to gain more insight into opportunities and risks, and to pursue additional expertise and collaboration partners. Since 2016, the conceptual diagrams have been further developed and expanded. In December 2018, the NAS Adaptation Tool was launched. This interactive tool enables users to compile a conceptual diagram of their own, geared to their specific field or issue.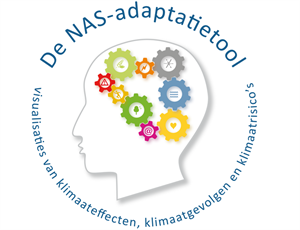 To the interactive tool
Go to the NAS Adaptation Tool to compile a customised conceptual diagram. In three steps, users can select appropriate climate trends, sectors, effects, and categories. For example, the impact of heat and drought on infrastructure, the energy sector, and the IT/Telecom sector. After filtering the relevant information, you can distribute the elements across your screen as desired. The last step involves exporting your diagram as an image, PDF file, or database. This enables you to print the diagram as a poster or add it to a presentation or publication. To add subsequent elements, use the Adobe Indesign programme.
National conceptual diagrams
The most recent versions of the conceptual diagrams are presented below (source: NAS implementation programme 2018-2019).